Our history
Creating solutions since 1988
Explore some highlights of our 30+ years of creating solutions together with our customers.
1988-1990
Foundation
Creating solutions together with our customers has always been important at KSN, so it's hardly surprising that the company was founded to solve an urgent issue: A local customer had ordered a cleaning system from another company that suddenly went out of business. KSN was founded on 8 June 1988 to complete the order.
The new company was named KSN from the first letters of the surnames of the three founders: Niels Klode Larsen, Jørn Skovhus Jørgensen, and Erik Nyhus. The new company completed the first of many cleaning system orders in a rented facility in Bjerring; a facility that would soon become too small.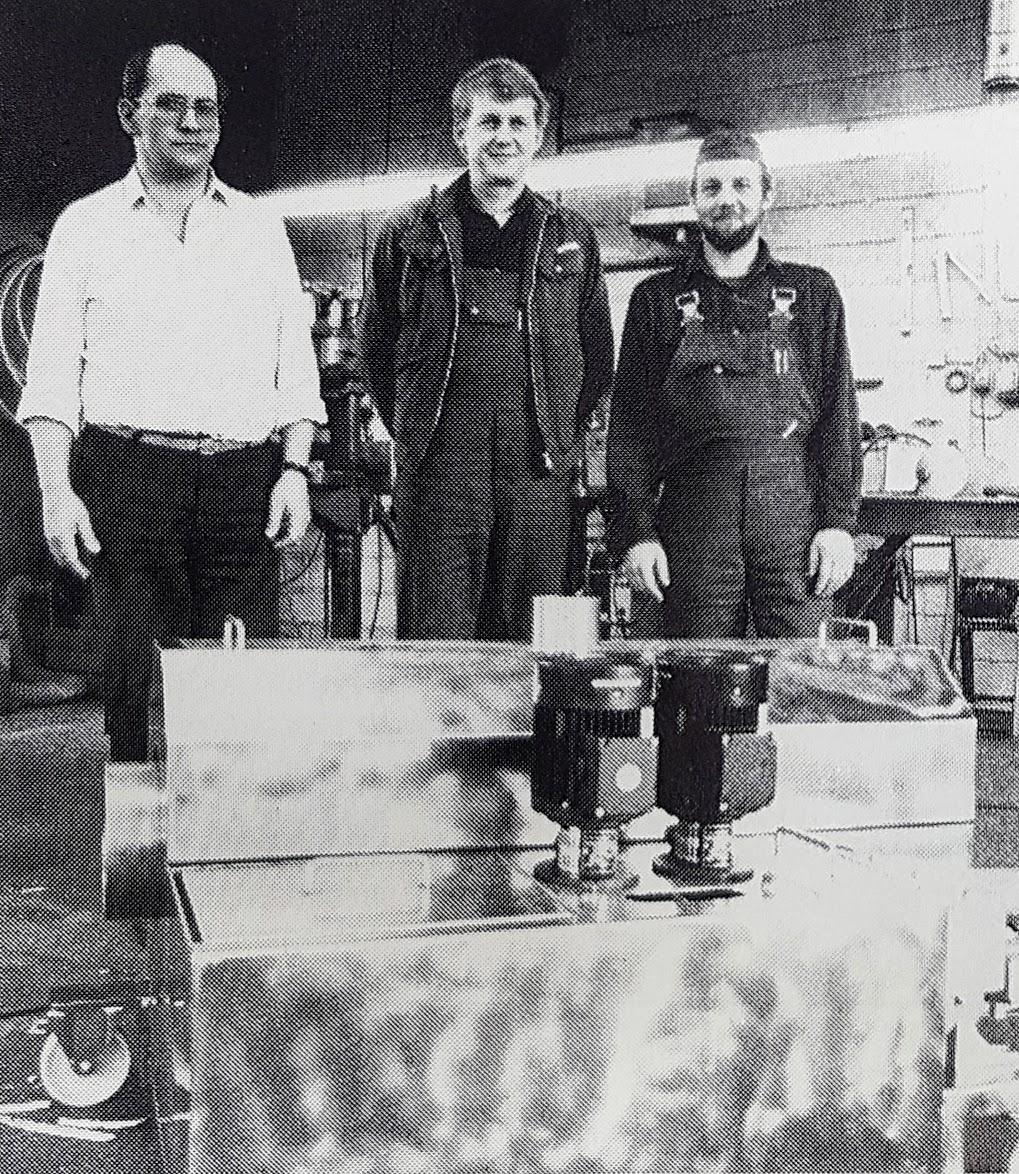 1991-2000
Steady growth
KSN grew steadily with a product portfolio that included cleaning systems, custom machines, and personnel lifts. In 1991, we landed our first orders for test rigs and cleaning systems for the global pump manufacturer Grundfos. Soon after, we closed our first export orders for Germany, Sweden, and England. We also took on our first apprentices in the early 1990es and have since trained many skilled metalworkers and electricians.
As a result of these successes, in 1998 KSN relocated to a larger manufacturing workshop in Bjerringbro that allowed us to start offering switchboards, PLC programming, and electrical works. The year after, the workshop expanded, and we signed our first agreement with a distributor in Germany, strengthening our international presence and preparing us for the new millennium.
2001-2010
Passing the torch
The positive development at KSN continued after the turn of the century. In 2004, we added another production hall and cold storage to our facility, and in 2006 we set up a separate electrical department at a different address. Orders kept coming in from domestic and international customers thanks to the solid performance and good customer service delivered by KSN.
After almost 20 years of successful operations, we started an ownership transfer process: Henrik Larsen and Carsten Brødsgaard (image) took over management of KSN in 2007. The change of ownership did not imply a change of direction. KSN was still committed to customer service, organic growth, and innovation; an approach that paved the way for milestone achievements over the course of the next decade.
2011-2020
Milestones and new directions
In 2015, we delivered a major test pump test rig to a Hungarian factory. It took 70 trucks to transport the parts and materials needed to build the 2,500 m2 facility with DN 1,400 pipes, 500 tonnes of steel, and 28 tonnes of bolts. The year after, we delivered our 500th cleaning system.
The end of the decade was marked by continued evolution. In 2015, we introduced our slogan and vision Creating Solutions Together; in 2017, we completed our ownership change, making six key employees capital owners; and in 2019, we moved to our current 5,500 m2 facility at Bjerring Hede 12 – a platform for future growth with new production technology.
2021-
International sales expansion
In 2021, Per Rasmussen took over the role as Managing Director, spearheading the continued effort to leverage KSN's growth potential domestically and internationally together with the rest of the organisation. We embarked on a journey introducing new sales channels and markets along with the creation of a new customer-oriented digital branding universe.
Contact us
Let's talk it over
Want more information about KSN and our solutions?
Contact us today!
keyboard_arrow_up